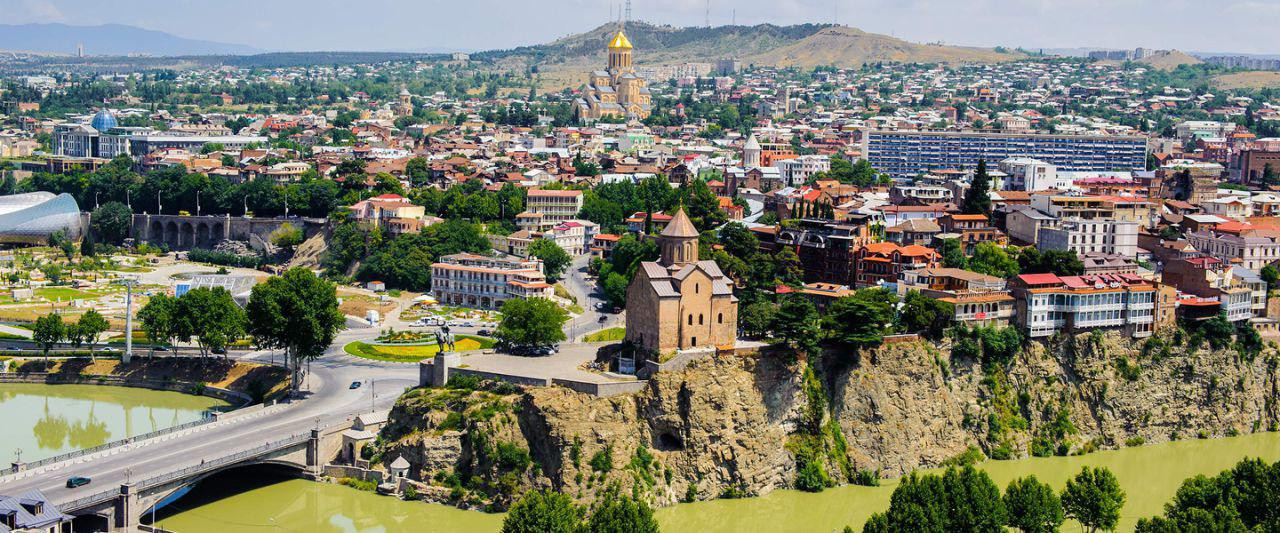 Tbilisi is located in eastern part of Georgia, it extends to 200 square km., with a population of 1,225,000. Tbilisi is located on both sides of the Mtkvari river, which is its main hydrological artery. Tbilisi - the capital of the country, has always been the economic, political, cultural and strategic center of Georgia.
Climate of Tbilisi varies from humid subtropical to relatively temperate continental. The average annual temperature is 12-13 degrees of Celsius. January is the coldest month and July is the hottest. The average temperature of July is 24 degrees, and the maximum is slightly higher than 40 degrees. The best time to visit the country is during the summer months. In Tbilisi, there are two fortresses along the both sides of the river, looking at each other. They are Metekhi and Narikala. Even the smallest stone here can tell you about the heroic history of the city.
Tbilisi - the capital of Georgia, one of the oldest cities in the world. It is impossible not to fall in love with this beautiful city at a glance. Here harmoniously combined past and present. Next to the streets, equipped in European style with modern buildings and beautiful shops, there are narrow ones in eastern style.
Creation of the city is associated with well-known legend. In the past, on Tbilisi's place was a dense forest, where King Vakhtang Gorgasali was hunting. Once king`s falcon pursued a pheasant. Shortly thereafter, the King found them cooked in the sulfuric springs. At this point, the King ordered to build a new city - Tbilisi. Each Georgian knows this legend, which is mentioned not only in legends, but also in historical documents. Annals "Kartlis Tskhovreba" say that Vakhtang began to build, while his son, Dachi Ujarmeli finished what his father had started. Soon, Tbilisi became the residence of the Georgian kings. The choice of the King was rewarded, thanks to the favorable geographical location the city began to grow and evolve.
Georgia is located in the heart of the Caucasus between Europe and Asia. Due to its favorable location, the invaders were always interested in our country. Tbilisi has experienced 40 destructive invasions, however, the city has never bowed before the conquerors and each time it rose from the ashes.
Venue of the Congress was not chosen by chance. This event will allow you to get acquainted with the latest achievements in the field of medicine and to spend time in one of the most ancient and beautiful cities and enjoy the real Goergian hospitality.